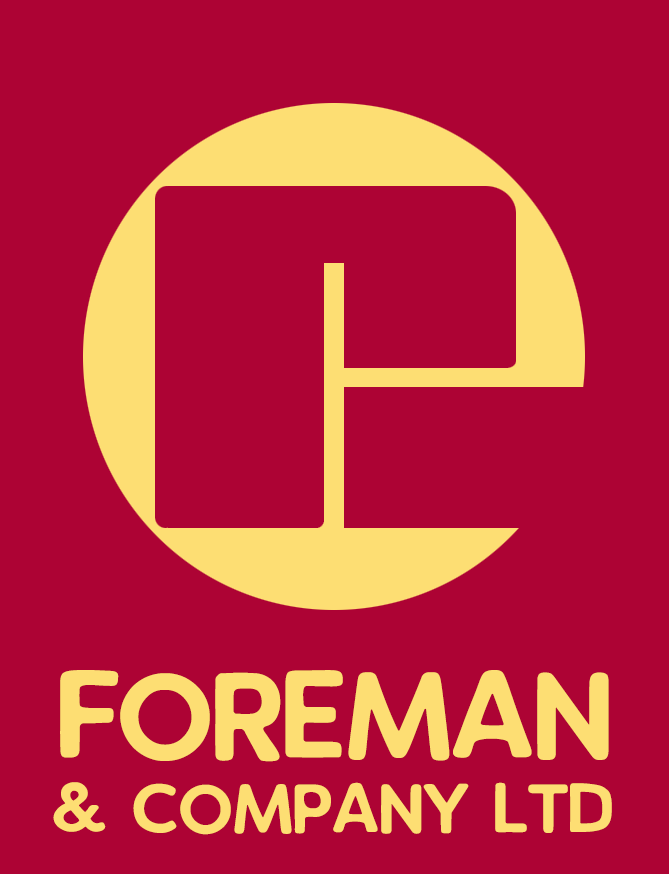 International

Retail Planning & Design Consultants
John B. Foreman  B.Arch, ASID, ANZCSC, FBDS, FFGI

Mall Design
City Centers & Retail Shopping Malls ARE the epitome and home of organised retail environments. No other retail clusters become successfull unless they follow the same proven course

Retail Design
Our design philosophy is simple and clear-cut yet flexible. It begins with a Psychcographic analysis of the WANTS and NEEDS of the shopper to ensure that our RETAIL PLAN and design will be focussed on your BRANDS needs

Project Management
We have developed a comprehensive portfolio of professional management procedures that suit and comply throughout Australasia, the South Pacific, SE Asia, India and the UAE.

News
Latest News & Commentary from John and the team. COVID 19 is BACK and we are aiming for Level TWO (Traffic lights) in New Zealand and now move forward with all client's #Retailplanning with confidence using our modus operandi – Check our Blog

About Us
We form strategic partnerships with all our clients, taking ownership of their perceptions and using our special skills to improve their performance and to benefit shoppers NEEDS and aiming for the WANTS of their customers.

Contact Us
Where and how to contact us.
E-Books for Sale
COVID-19 HAS CHANGED THE WAY WE RETAIL .. SEE OUR NEWS BLOG
These E-Books are available for download immediately after purchase. Availability indicated below.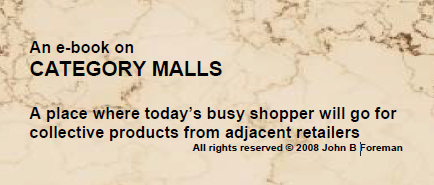 Category Malls
We name this A CATEGORY MALL because we know every special WANTS can be a specific  CATEGORY that sits well with a shoppers NEEDS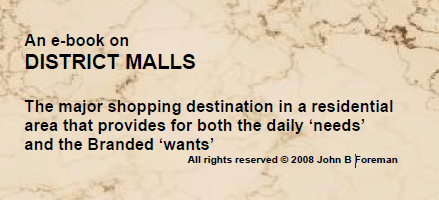 District Malls
 This World Wide major shopping destination that provides for both the daily NEEDS and the Branded WANTS of the Districts Shopper and with Eateries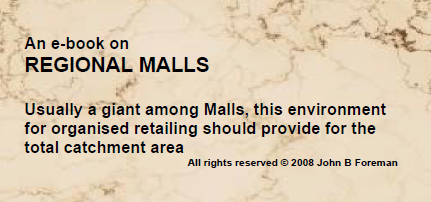 Regional Malls
The giant among Malls with a wide variety of NEEDS for all shoppers and their WANTS and selected RETAILTAINMENT for the total catchment area.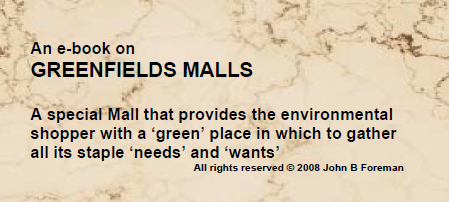 Greenfields Malls
A special Mall that provides the shopper with a different place in which to gather all their lifestyle NEEDS for life and their WANTS for their passion .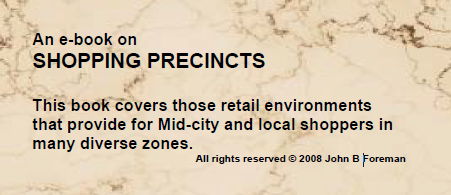 Shopping Precincts
A book for retail environments that group with others to provide for Mid-city style workers and or local residentials in a village style environment.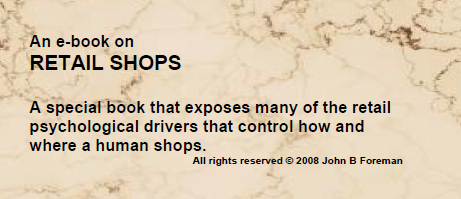 Retail Shops
 My special book that exposes many of the retail attitudes & psychological drivers that control how and where a human shops.
Our Philosophy
It is our belief that by forming strategic partnerships with our clients, taking ownership of their perceptions and using our special  skills to improve their performance we shall keep them ahead of the market achieving mutual success.
Our Mission
To continually add measurable value with commitment to all we do for our clients and then ourselves.
Guarantee
Foreman & Company Limited is totally client focused and fully LEED focused.
•    We will continue to implement and constantly strive to improve all aspects of our service.
•    Each commission will receive our full attention in order to deliver the project to our client's entire satisfaction having regard to   professionalism, quality, time and cost.
•    We will maintain the highest possible professional codes of ethics in the conduct of our daily duties and will never compromise the position of our clients.
•    We believe our service should go beyond the design and planning encompassing whatever it takes to provide the ultimate service
•    We maintain a substantial world wide professional indemnity insurance package for your protection
•    We will never sell, lease or give away your information to anyone ever.
No Project Too Big Or Too Small
As International Consultants for Retail Environments we work with City Planners, Mall Owners and Developers, and major retail groups and franchises throughout Australasia, the South Pacific, SE Asia, India and the UAE to grow their ASSET / INVESTMENT exponentially.
We URGE YOU to seek to use the extensive knowledge of John B Foreman for your PEER REVIEWS.
We provide environmentally effective and sustainable retail environments using RBP, our own proven Retail Behavioral Psychology; a customer biased neuroscience to provide for the NEEDS and WANTS of the Audience. 
Ask our team to provide specialised consultancy services for:
    Creative & SUSTAINABLE Shopping Mall Environments beginning with our specific PSYCHOGRAPHIC ANALYSIS
    Followed by Strategic

 

RETAIL PLANNING

 

for all City centers and Malls
    ORIGINAL DESIGN & its MANAGEMENT for CITIES, Urban Precincts & Retail Malls
    We urge you to seek our advice for the BEST RETAILTAINMENT
    Internationally proven Category and Tenancy Mix Planning to attract BRANDS
    Retail Tenancy Co-ordination manuals and review procedures for Malls and Centres
    Strategic retail planning using customer conversion & footfall monitoring systems
    Retail Store designs for sustainability based on

 

Retail Behavioral Psychology RBP
    Retail 'Roll-out' project management with our Project Management documentation
    Design and development of Franchise Design Standards Manuals
We've Been Consulting For Over 59 years
Providing environmentally effective and sustainable retail environments, we use RBP (Retail Behavioral Psychology); the science of proven customer biased psychological planning techniques .
Our Skill Base has been extended to cater for using PSYCHOGRAPHIC ANALYSIS of the Retailers Territorial Market thus providing REAL MARKET Knowledge and the much sought after RETAILTAINMENT.
Mailing Address
PA to Managing Director
Foreman & Company Limited
PO Box 4075 Kamo Village
Whangarei 0141 New Zealand
…"John's ability to identify an appropriate theme and then with precision and detail translate his creative thought into practical reality was clearly demonstrated and the completed project is an outstanding success.
We can commend John and Foreman & Company to mall developers and mall owners who wish to transform existing buildings into a superior retail environment and to retailers looking for advice as to layout and finishes within their lease lines.".
….." The New Zealand Lotteries Commission has had a long relationship with the Foreman companies,
Since 1993 John Foreman and his team has been involved with the New Zealand Lotteries Commission as our preferred supplier for retail design and planning
We consistently had the confidence that the Foreman team were able to communicate our Franchise Standards to our Franchise holders when discussing and formulating the design of each of the 400 plus outlets."
. .." On behalf of Swedish Match, I would like to thank you and your team for the effort and support in the establishment of La Casa del Habano. 
The design and fitout has certainly met and exceeded my expectations 
You and your team should be proud in being able to put your name to this project as much as I am".